Culligan of Rice Lake
You could give your people Culligan Water.
Your Rice Lake Water Treatment Experts
We are Culligan of Rice Lake, your water technology experts proudly serving Northern Wisconsin. Our dealership specializes in providing water softeners, reverse osmosis systems, water coolers, bottled water, water filtering and softener salt delivery service to area homes and businesses.
CULLIGAN OF RICE LAKE HISTORY
Jim Luedtke started his water treatment career while working in the family plumbing business in Jefferson, WI. He attended school at UW-La Crosse and worked at the local Culligan dealership there from 1980-85. In 1985, Jim moved his family to Rice Lake, when he purchased the assets of the Culligan business from Eau Claire Culligan. The purchase included two route books and 82 rental accounts, no building, trucks or inventory. Jim was the sole employee of the business for three years before hiring his first part-time employee in 1987.
In 1994, an opportunity arose to purchase the neighboring Culligan dealership in Milltown. Today, our 12 employees provide service to Barron, Polk, Rusk, Sawyer and Washburn counties. We service our 10,000 customers from our modern building and dispatch our trucks to each county daily. In 2017, we installed water vending machines at our office. The machines are open 24/7 and vend both RO (reverse-osmosis) and alkaline water.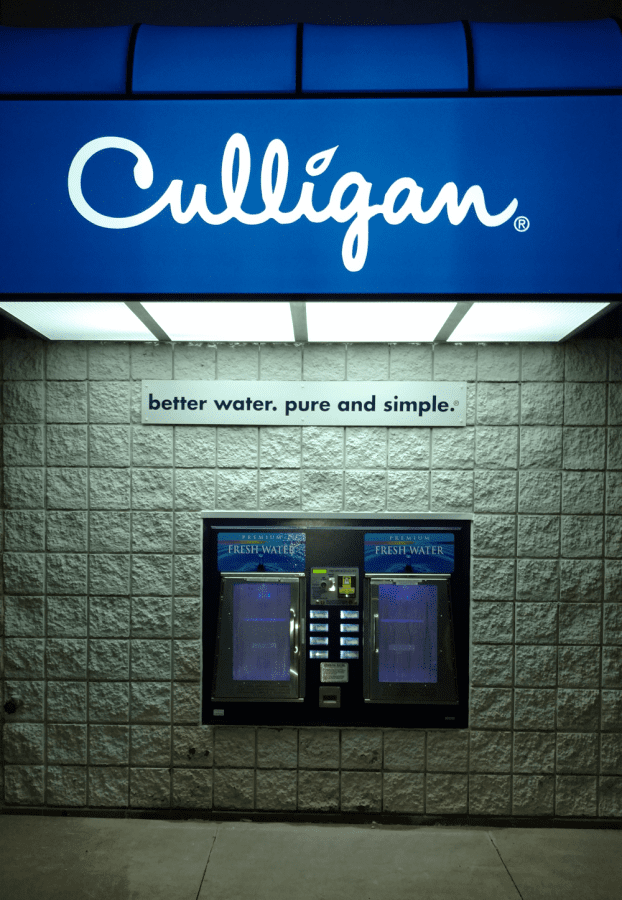 For over 65 years, Culligan's mission has been to deliver high-quality water treatment products that will benefit every part of our customers' lives. We hope to raise the quality of life by purifying its most essential element: water.
We've seen about every water problem imaginable and we've solved these problems to deliver the refreshing, clean and pure water that's become our hallmark. Water treated with Culligan softeners or filtration systems will make an impression on you and your household or work.
CULLIGAN OF RICE LAKE STAFF
The Culligan Rice Lake's service and installation staff are water treatment experts. When our service team services your water equipment, expect nothing but the best for your home and for your family.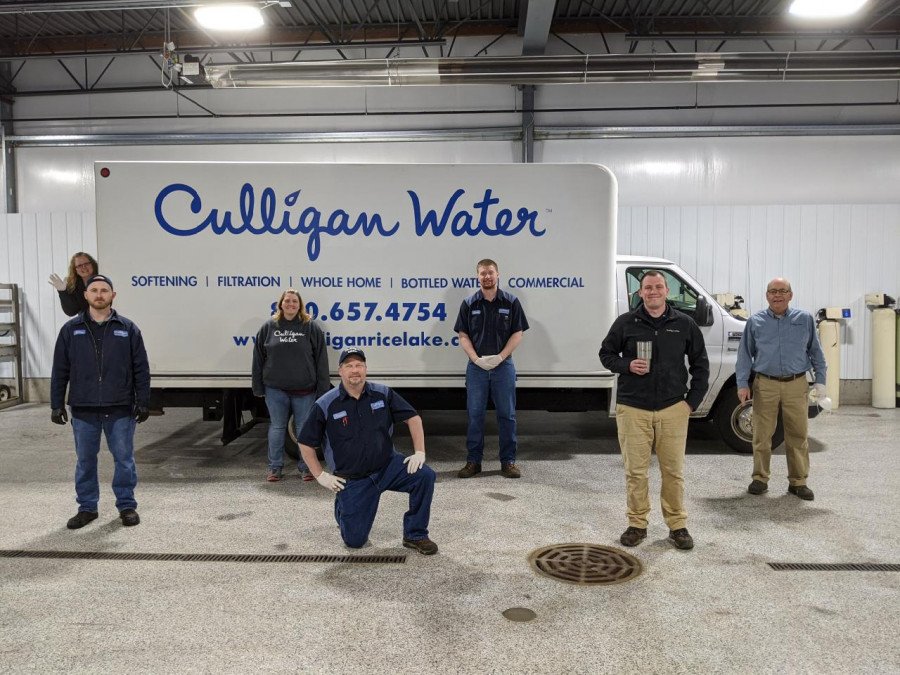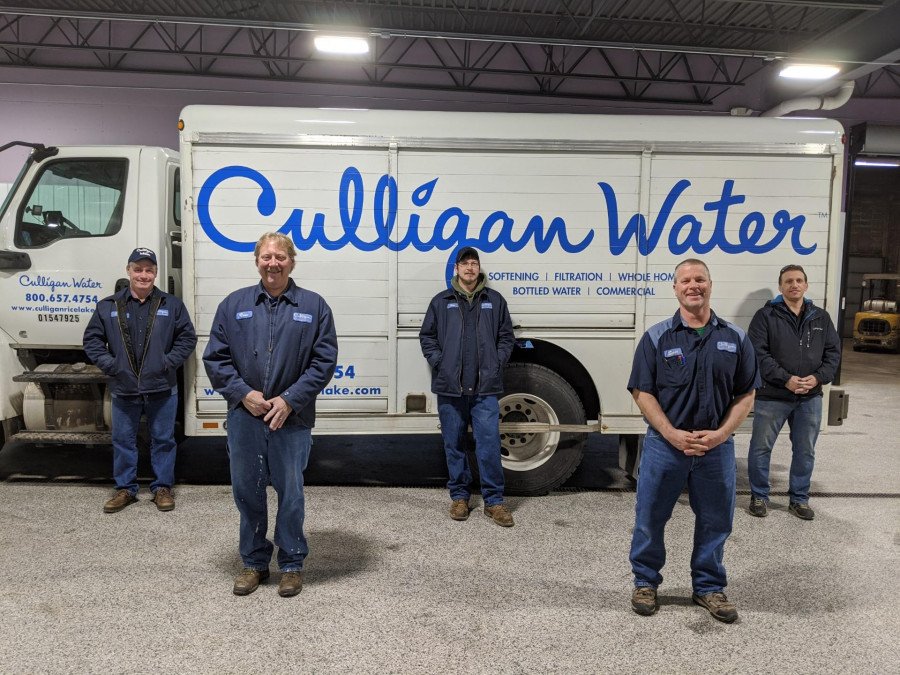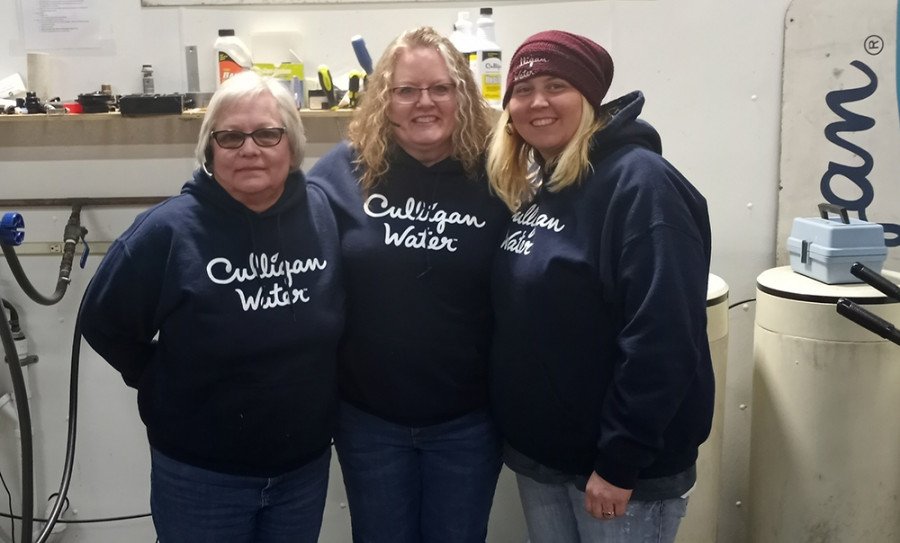 ---
Reviews for Culligan Rice Lake
---
01/27/2022
Reviewing for my parents (>1 yr clients) who reported courteous, friendly service from all whom they deal with at Culligan Rice Lake. This included receptionist/desk staff & esp. Eric/k who took care at a service visit to resolve an issue, explain matters thoroughly, & answer questions. He provided thorough service which was pertinent & greatly appreciated. Matt S. is easily contacted, gave his cell # to my folks & answers his phone himself! Service is highest priority for my parents, but they are also very pleased with the product (home h2o softness & quality.)
---
09/02/2021
The people are the BEST. They accurately diagnosed why our water was always brown, despite numerous efforts and months working with our previous water softener supplier without success, and they efficiently, professionally, and effectively solved ALL of our water problems in short order. The technician who serviced us was outstanding and explained everything in detail that was easy to understand. The system they installed works flawlessly, and the app that is part of it gives us feedback and alerts the company if any problem occurs, even before we might notice it. I strongly recommend Culligan Rice Lake for any and all of your water problems; they certainly solved all of ours!
---
07/27/2021
This is the place to get your water bottles refilled if you have well water and you use filtered water. You can fill 1 gallon to 5 gallon containers. The refill kiosk is on the outside of the building. The cost is $1.25 to fill a 5-gallon container. There are five choices for your container size. you pay $0.25 for each gallon. The machine will give you change in quarters I think up to $5 bills The office sells refillable containers during their business hours. They have 3 gallon ones and they also have used refillable 5-gallon containers for $7 each, got to ask for them they have them in the back room. We have a water delivery system vitapur and it fits these five gallon containers well. Their water has many steps of purification, it's listed on the outside kiosk the processes. So glad we found this place!
---
02/02/2021
Awesome monthly service! Very fast as well! 😀
---
---
Hey Culligan!
Hours
Monday: 8:00 AM – 5:00 PM
Tuesday: 8:00 AM – 5:00 PM
Wednesday: 8:00 AM – 5:00 PM
Thursday: 8:00 AM – 5:00 PM
Friday: 8:00 AM – 5:00 PM
Saturday: Closed
Sunday: Closed
Areas We Serve
Almena, Amery, Balsam Lake, Barron, Barronett, Birchwood, Brill, Bruce, Cameron, Centuria, Chetek, Clayton, Clear Lake, Comstock, Conrath, Couderay, Cumberland, Cushing, Dallas, WI, Deer Park, Dresser, Edgewater, Exeland, Frederic, Glen Flora, Grantsburg, Haugen, Hawkins, Hayward, Hertel, Holcombe, Ladysmith, Luck, Mikana, Milltown, Minong, New Auburn, Ojibwa, Osceola, Prairie Farm, Radisson, Rice Lake, Ridgeland, Saint Croix Falls, Sarona, Sheldon, Shell Lake, Spooner, Springbrook, Star Prairie, Stone Lake, Tony, Trego, Turtle Lake, Weyerhaeuser, Winter
Review on Facebook
Learn more about how you can have better water.
Latest
Blog Posts
What's in your drinking water? Find out with a free water test from your local Culligan Water expert. FREE WATER
While there are many ways to improve your home's drinking water, there are also options you can explore to keep
Reviewing for my parents (>1 yr clients) who reported courteous, friendly service from all whom they deal with at Culligan Rice Lake. This included receptionist/desk staff & esp. Eric/k who took care at a service visit to resolve an issue, explain matters thoroughly, & answer questions. He provided thorough service which was pertinent & greatly appreciated. Matt S. is easily contacted, gave his cell # to my folks & answers his phone himself! Service is highest priority for my parents, but they are also very pleased with the product (home h2o softness & quality.)

Winter Sojourn
- Culligan Customer